The Power of Community
Genesis 2:18 – The Lord God said, "It is not good for man to be alone. I will make a helper suitable for him."
Ecclesiastes 4:9-12 -Two are better than one, because they have a good return for their labor:If either of them falls down, one can help the other up. But pity anyone who falls and has no one to help them up. Also, if two lie down together, they will keep warm. But how can one keep warm alone?Though one may be overpowered, two can defend themselves. A cord of three strands is not quickly broken.
God never intended us to be alone.  He created Adam because He, Himself was lonely.  These facts tell me that there is power in community, and we were not meant to face this world alone. The theme of community continues throughout the Bible.  It was seen as a huge blessing to have many descendants in your family.  Tribes were formed, disciples were gathered, and churches were formed.
Many of the worst crimes committed in our day usually have a common theme when we are given information of the person, their motives, and why they may have committed a terrible crime.  One theme rings consistent:  Isolation.  The worst form of punishment within a prison is known as solitary confinement. When we see suspects or captives about to be questioned or tortured, they remain by themselves in rooms in isolation as to break them.
I recently listened to a book by Shaun T, called "T is for Transformation."   One thing that really stuck with me in his book was he asked the readers to take inventory of their Top 5 people in their lives.  Were those 5 people pulling them up or down?  Were their interactions with those Top 5 people positive or negative?  It caused me to pause and take inventory of my 5.  He said that our attitudes and behaviors were an average of those 5 people in our inner circle.
Jesus had his larger inner circle, his disciples, and then he had Peter, James, and John who were said to be his immediate inner circle. His very best friend, John was the only one to stay with him until the end. So, this tells me it is imperative for us to understand, even Jesus' closest people in his life betrayed him and hurt him.  After all, we are imperfect people all living in an imperfect world.
Who are your top 5?  Are they building you up or bringing you down?  Reach out to them, and feed into them.  One of the first things I did once I realized or narrowed down who my top 5 were was I started sending them a text message in the morning to reach out; it actually helped me hone in on if my top 5 were actually my top 5.  As 2 of my 5 took days to respond to a simple text.  It seems like my top 3 are pretty solid, my 4 and 5 seem to rotate in and out as seasons and activities change.
There is a reason that exercise classes are effective, bible studies, weight watchers, support groups; there is power in community.  So, find your tribe, and love them hard!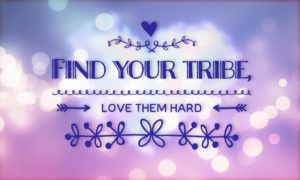 Hebrews 10:24,25 – And let us consider how we may spur one another on toward love and good deeds, not giving up meeting together, as some are in the habit of doing, but encouraging one another—and all the more as you see the Day approaching.