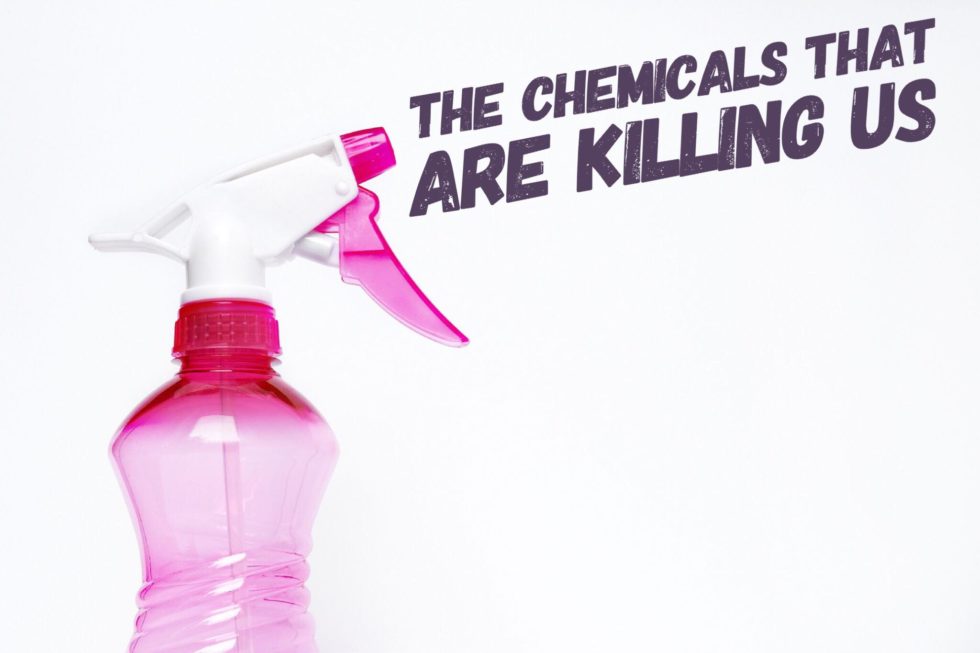 The Chemicals that are Killing Us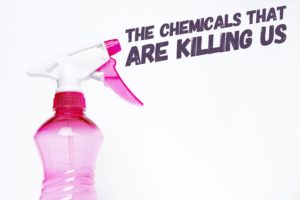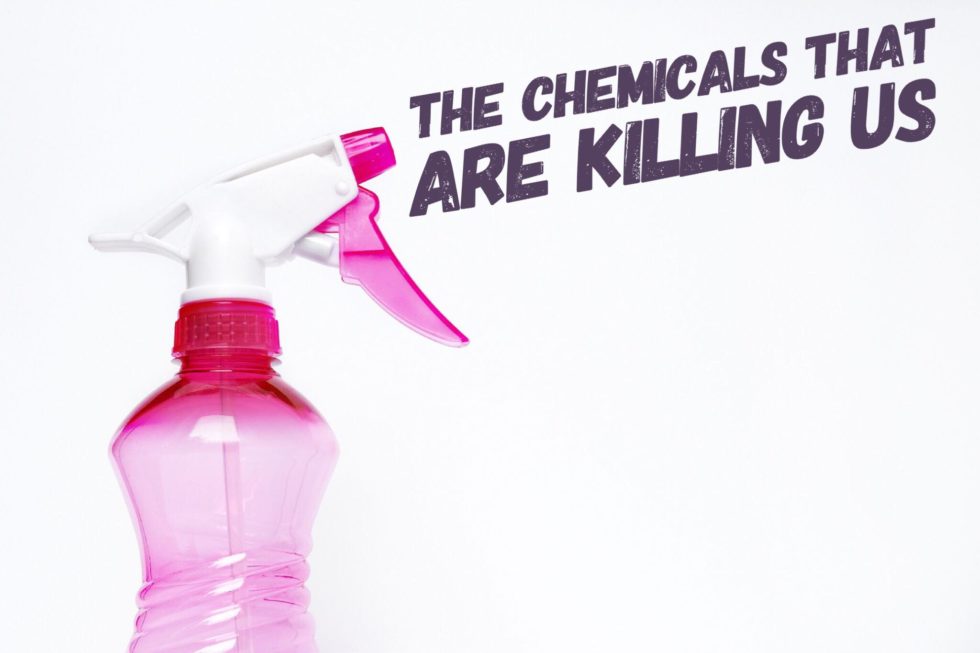 The average person applies 300 chemicals to their body every single day, and 80 of those chemicals before breakfast! Most are from four things – soap, makeup, shampoo, and hair care. The biggest pollutants in our home are fabric softener, dryer sheets, air freshener plug-ins, and candles.  You are literally poisoning your family every day with the stuff that you can't pronounce in your home, like your bright blue dish soap, the cleaner you use on your kitchen counters, processed food, and more.  Health and safety data only exists for 15 percent of all the chemicals out there, even though so many are known to cause asthma endocrine disruptions. (Harnish, Sarah, Gameplan, Oil Ability, 2016)
 – Except taken from Sarah Harnish's Book, "Gameplan."
As I shared in a previous post, I had a health scare that started with a bad pap, and lots of tests and procedures that stemmed from that one test result.  It was enough for me to start feeling my age, and take a look at what I was putting in my body.  Do I believe I can prevent cancer, no; but I feel like it's time to start treating my body more like the temple it is, and take a harder look at what chemicals I'm around, and what's going in and on that could be hurting me and my optimal body performance and health.  Cancer feels like an epidemic these days; it seems to be everywhere, effecting all too many people.  As society has advanced, we continue to man make more and try new things, mostly playing with chemicals.  Not all chemicals are bad, yes, we have definitely increased our life expectancy and we have improved our quality of life.  But, it seems some disease and cancer are on the rise, and honestly I don't have the science knowledge and background to give you a dissertation on everything that is out there.  I'm going to start in my day to day routine, and take a look at what I'm doing; make some small changes, gauge how I feel, and hope for the best!
My favorite Podcast is The Model Health Show, and Shawn Stevenson just did an episode on this exact topic that I had been dealing with for the past 2 months. His Podcast was called The Sinister 6 Toxic Ingredients in Your Personal Care Products. Shawn talks about the little regulation on the health care product and supplement industry. He also reminded me that the skin is our largest organ, and 60% of what we apply goes right into our blood stream.
First, let's talk about deodorant – talk about a touchy subject.  It was for me too, I am a brand loyal, degree wearing lady who never stinks because degree has super powers for me;) Also, we know what happens when we switch deodorants, we stink terribly as our body chemistry is adjusting to the new deodorant, or that has always been my experience.  But, I read about aluminum, and then heard the podcast about aluminum and what is happening and what I'm putting under my arms and clogging up my pores and right next to my lymph nodes as well. Also, the increase in chance of breast cancer cell growth and Alzheimer's. No thanks, I'm not risking it, so I made the switch to Young Living's Meadow Mist Deodorant. Do I stink now? Well, I've been reapplying if I'm worried about it, but honestly, it hasn't been bad, and I'm done sticking aluminum under my armpits.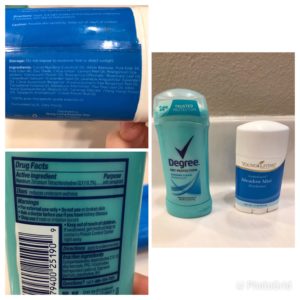 Lotions, and Body Wash – the things we slather all over our largest organ of our body.  Parabens mimic hormones in our body and disrupt our endocrine system.  What does the endocrine system do? The endocrine system releases hormones into the bloodstream and is involved in a number of functions related to reproduction, waste elimination, digestion and metabolism.  Parabens have been found in breast tumors; and that again, is enough for me to try to steer clear, even after 39 years of not knowing this was harmful.
About everything in my shower and cabinets I've now realized is full of SLS (Sodium Lauryl Sulfate).  I have on order and should be receiving Young Living Shampoo and Conditioner, and Body Lotion.  I've also ordered some soap and lotion for the kids. If I don't want to put it on myself, I definitely don't want to be putting this on them.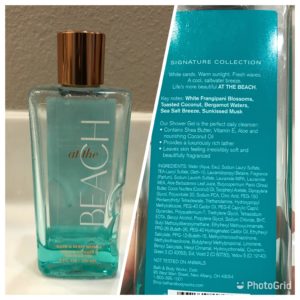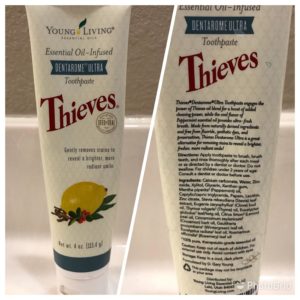 Soaps, detergents, lotions, shampoos, mouthwash, toothpaste – Sodium Lauryl Sulfate is what makes that lather and helps interact with the product and your body to increase the cleaning effect. Studies have found residual amounts of SLS in the brain, lungs, liver, and heart. SLS has also been linked to a hormonal imbalance; and I cannot take any more gambles with this.  I have had a very hard time finding hormonal balance since getting off birth control after about 15 years of using it before I had our 2 kids.  I feel off most of the time, and have been trying to find a correct balance that can keep my emotions and behavior under control consistently. Also, I'm not getting any younger, and SLS has been linked to a degenerate effect on your cells;  AKA aging us quicker! Again, you don't have to, but I'm going to start looking at labels and switch as much of this out as I can as soon as I can.
Some things I've switched out and love already:
Thieves All-Purpose Cleaner – This has replaced so many of my household cleaners and is very low cost. You buy the concentrate, get a glass bottle (oils will seep into plastic), and mix with water, I add some lemon essential oil.
Homemade Hand Soap, Bath Soak, Sugar Scrub, Room Refresher
I hope to switch out soon but they've been sold out of the laundry soap for months, and I hope to start making my own Body Lotion with Shea Butter and essential oils.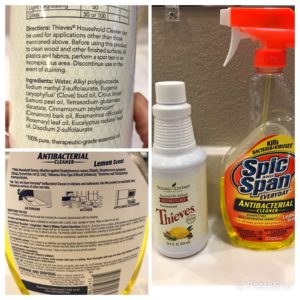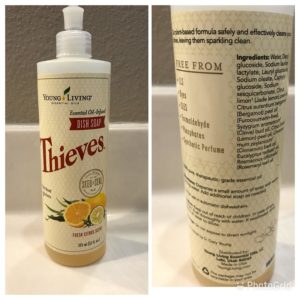 Fragrance – no, no, and no. Why? It's not natural and not good for your body.
Dyes – oh wow, you need to read this article about food dyes. 
Diet Drinks – you gotta ditch these! I thought I was saving calories, and my most favorite saying was, I'd rather eat my calories than drink them.  Aside from the chemical risks again, when you have diet drinks, it raises your insulin levels because your body thinks you are getting sugar, so it triggers you to store it, and you will develop insulin insensitivity; which is what contributes to obesity. Also, it hurts our bones, teeth, heart, and contributes to a higher risk of depression. Enough…I'm sold.
So, no, I'm not doing everything right by any means; so I hope to make as many changes as I can, but I also have been making a better effort to make sure my body has a good chance to get rid of any toxins as much as possible.  I'm trying to drink more pure water to flush my system. I also bought a Dyln water bottle that changes the PH of the water that goes in that bottle. The goal for this is to try to get my body at a more ideal alkaline vs acidic level. I also drink a lot of tea that also helps flush and clean me out.  In the morning I add Lemon Vitality to a glass of tea. Lemon helps with liver support, energy support, skin support, and even immune support. I also added drinking NingXia each day, which is a super food with so many benefits!
My challenge to you: flip those bottles over that you are applying every day and not thinking about.  Open those cabinets and take a look.  Can you pronounce most of them?  Do you have any idea what they do and what they do to you? Look into it; how is your energy, how is your health?  Start switching things out to more natural alternatives and see if there is a difference.  It's worth a shot because your life depends on it truthfully.
Want More Info on Healthy Living?
Check out my Healthy Living Blog focusing on Nutrition, Workouts, Essential Oils, and Spiritual Health at www.battletestedhealth.com 
Read my Day in the Life of an Oiler to find out what I love from my Essential Oils.
Also, see my DIY recipes on how to make sugar and salt scrubs, shower vapor disks, hand soap, and room freshener.
Want 24% off of all Young Living Products for life?! Please use this link to sign up to get your Young Living Premium Starter Kit, and PLEASE use my Sponsor ID and Enroller ID number when you sign up for your kit: 13364616