Those who fail to plan, plan to fail!
You have to get serious about meal planning to make a lifestyle change.  Your habits will win out every time.  So, this is your chance to commit, and create new habits!
I'm going to run you through a Paleo/Primal style of eating because that's what works for me.  If you can add oatmeal, whole wheat, Ezekiel bread, you do you; but my body seems to hold onto carbs and never let go! If I cut carbs and sugar, I can lose weight and make significant body changes.  I always look at the sugar content on everything I buy for the first time.  (Pay special attention to salad dressings and condiments……that is where we get a LOT of extra sugars we had no idea of and think we are doing "good.")
I'm simple and I want to grab and go. Ben does a lot of our dinner cooking. I hope I can help more by firing up the crock pot.  I hate cooking honestly…it's so time consuming and tedious to me.  Especially after school; I want to workout if I haven't yet, and sit and vegetate after the day!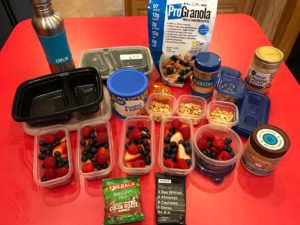 Breakfast Options
2 eggs fried in coconut oil (Consider switching to coconut oil to cook with instead of Pam or butter or whatever you are using. There are SO many benefits of coconut oil!)
Hard boiled eggs
Nut butter spoonful(s), no more than 2 🙂 (I love peanut butter something awful, but it is not good for your gut……sighhhhhh……..consider switching to almond or cashew butter)
Paleo granola – I've made some and I've bought some; the brand I bought tore up my stomach because I cannot do chia seeds – I need to try to make it on my own minus the chia seeds
I would love to grab a banana and nut butter; but I am going to focus on trying to get away from high glycemic fruits because I need to get off these final 15#.
Mid-Morning Snack Options
Almonds, cashews, or sunflower seed kernels
Fresh fruit cup – my go to's are blueberries and strawberries – I try to separate them on Sundays so it is grab and go and already measured out for me
Lunch Options
Pre-made Wal-mart salads – I try to throw away the cheese; my favorites are the Cobb salads, and the BLT with chicken.
Spinach leaves and water based StarKist tuna with Primal Kitchen honey mustard dressing
Leftover's from dinner that were meat and veggies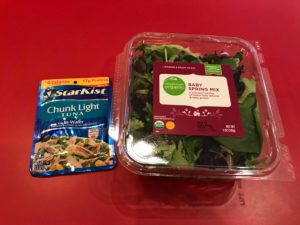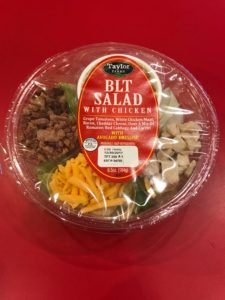 Afternoon Snack Options
This is where I struggle….I want to grab my peanut butter and dark chocolate chips; but I'm going to try to STAY AWAY
Same as mid-morning snack; or whatever I didn't eat that I brought with me from the morning
I have a terrible sweet craving during the afternoon, so one thing I found is these RX bars; the sugar content is a little high, but it's all natural ingredients. My FAVORITE is the Chocolate Sea Salt that I buy from amazon and are not cheap.  They also have kid bars, I like the chocolate chip and the mixed berry ones, you can find those at target or amazon.  The kid ones are smaller at 110 calories; while the chocolate sea salt ones are 220 calories.
Pumpkin chocolate paleo brownies – this is what I hope to switch into my prep for the week to replace the expensive and probably too sweet RX bars.
Dinner Options
Fish (salmon, cod, tilapia) and vegetables
Turkey burgers and vegetables
Lean ground beef and vegetables
Grilled chicken and vegetables
Tenderloin and vegetables
Crock pot roast and vegetables
Eggs and turkey bacon (I am anti-american I know, but I just prefer turkey bacon; I can't stand visible fat; so turkey bacon is my favorite!)
Vegetable beef soup – I like to buy the beef stew meat that is already cut up for you; fry that up; then buy a big bag of frozen mixed vegetables, big can of tomato juice, 1 can of stewed tomatoes, and a small can of tomato paste to thicken it up.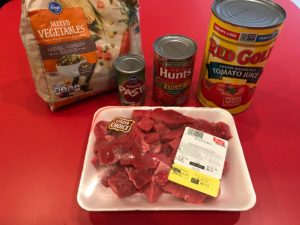 Spaghetti squash – there are so many recipes of things to do with these..
Vegetables – we buy that huge pack at Walmart that is like 5 pounds of the cauliflower, broccoli, squash, and carrot mix.  We also buy the steamables of brussel sprouts, green beans, and whatever else. Peas and lima beans are higher carb versions of vegetables; so limit those if you are trying to lose weight; carrots are too actually…but, my philosophy on those is it's better than me going to the Taco bell, Wendy's or McDonald's drive thru for fries! Yes, it would be better for us to buy fresh, organic vegetables, and maybe someday I will get there; but for now, we do what is quicker and easier honestly.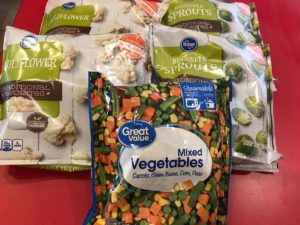 Sweet Potatoes – these are allowed, and when I feel famished, it's time for one!  My 1st ever bout of a Paleo challenge, I limited myself to sweet potatoes only once a week.  White potatoes are full of starch and not allowed if attempting to follow a paleo diet.
Drinks
Water, tea, black coffee only
I am a tea person, so I love green tea and I also love teavana, so I've found some awesome teas I love like Recover – I've also conditioned myself to drink it straight, no sweetners
Coffee – I have to have ginger bread lattes, mochas, and gingersnap chai's.  So, those are off limits!  You will have to do your own research on how to get your coffee fix and try to stay away from artificial sweeteners and sugars.
Water is a win-win – and some waters are better than others for your body to absorb, but that's another topic for another day!  Need flavor – do the fruit infused thing.
Want More Healthy Living Information?
Check out my Healthy Living Blog focusing on Nutrition, Workouts, Essential Oils, and Spiritual Health at www.battletestedhealth.com 
Read more about Paleo/Primal eating here