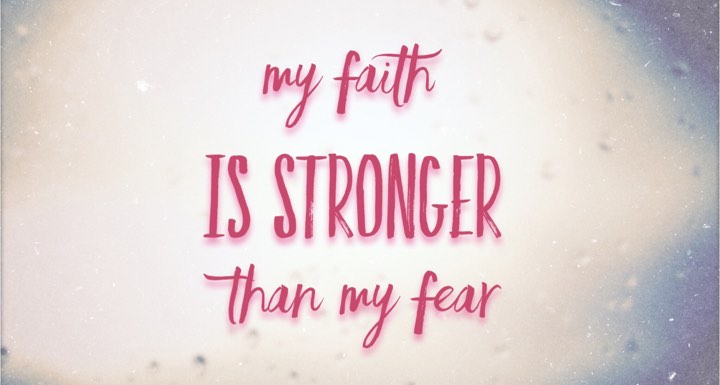 My Faith Is Stronger Than My Fear
Breaking Point
Back in September, I was at my breaking point.  I was overwhelmed with a new school, new curriculum, new technology, and I also made a decision I needed to go out of business with my side job selling LuLaRoe; I was emotionally exhausted and felt hormonally off and out of control.  I broke down in tears after an incident with a student the day after Labor Day weekend; and could not recover and pull it together, so I went home early that day.  I knew that day; something had to change, so I immediately called the next day to schedule a visit with my OBGYN to talk to her about my emotional state, anxiety levels I was experiencing, and of course it was time and overdue for my annual exam.
Mildy Abnormal
I went on an antidepressant, anti-anxiety medication that I had been on in the past when I had went through my divorce 10 years ago, and even scheduled a mammogram while I was only 39 years old because I told them I wanted everything tested.  A week later, I got the call that my pap came back mildly abnormal, so they wanted to biopsy.  They found about three spots they wanted to biopsy doing a procedure called a colposcopy. In another week, they called and said the biopsy was clear.
Procedures
I also went to the doctor to find out why my bleeding was out of control; so they wanted to first check for fibroids, so I had an ultrasound that found no fibroids or polyps. They found my uterus lining to just be extremely thick, so the next step was to do a D&C. The D&C was done in December.  They removed a polyp, and sent off parts of the uterus to biopsy as well.  D&C biopsy was clear, and the next step of the D&C not giving me relief was to do an ablation to hopefully give me relief from the bleeding. The ablation was done on February 17th.
Surprise Diagnosis 
The last week of February, I got the strangest call; they sent off some of what they took out during the ablation, and some cells came back abnormal, so they wanted to schedule another colposcopy during my follow up exam for the ablation.  I was upset.  I questioned the nurse who called, no way, there has to be a mistake, I just had a colposcopy in November and have been all clear in all the procedures since then; why were they doing another one.  I realized from her tone, she had no idea, it was just her job to call and give me a heads up for my next visit.  I decided I would just talk to the doctor during the follow up visit; there had to be some sort of mistake.
The follow up visit came; they put me in a normal room and the nurse checking my vitals had no knowledge of the colposcopy, so I was relieved and thinking I was in the clear, yes, it must have been a mistake. I heard the Doctor outside my room say before she came in, we need to get her ready to do the colposcopy; and my heart sank.  The colposcopy is the worst procedure I've done.  The D&C and ablation I was under anesthesia; just looking at the tool they use for colposcopy the first time I nearly had an anxiety attack. They literally take chunks out of your cervix for the biopsies, and it takes about two weeks for the after affects and bleeding to stop after you have it.  It's horribly uncomfortable and painful.
The Results
It normally takes a week to get results back, exactly one week later, the call came: "Your results show that you have high grade dysplasia,Dr. Huecker wants to see you right away to discuss your options with you."  I was in the office the next afternoon, and I have a cone biopsy scheduled for Monday. The Doctor wanted them out immediately, she was leaving for vacation, the next week I was leaving for Spring Break; she rearranged her schedule to get me in for Monday, and wanted the cells out as soon as possible based on how quickly they had changed in just five months.
The Near Miss
The appointment was an experience.  Dr Huecker primarily serves patients that are pregnant or delivering; so she gets called over a lot for emergency situations for her patients delivering at Floyd Memorial. I love her; she is sweet, real, and genuine, so I haven't switched doctors since having Gavin. The nurse no more than got my blood pressure taken and my weight and I learned she had been called to Floyd for a delivery. She was back in about an hour. I know she was busy and trying to make up time; but our conversation was an interesting one.  When doing the ablation she had no intentions of doing a biopsy; we had done plenty of those to get to the stage where ablation was my best treatment because there were no signs of cancer or disease, so we were just working to get some relief from my excessive bleeding.
Upon exiting my uterus, the tool she used for the ablation caught a piece of my cervix and that is what was sent off, and what showed the high grade abnormal cells.  She said, "this is what we call a near miss, had we missed this and you waited until your next pap, it may and probably would have been too late, you would have been too far gone. The amount these cells have changed over the past five months is alarming, and you are heading down the road for cancer."  I know me….I would have put off that next pap longer than I should of, because I feel like I've done so many procedures lately, and they were all clear, so I know I would have put it off.  Dr. Huecker apologized for putting me through so many procedures, and I told her, "just keep me alive, I want to see my babies grow up."  If the cone biopsy doesn't work, we will do a hysterectomy, and go from there.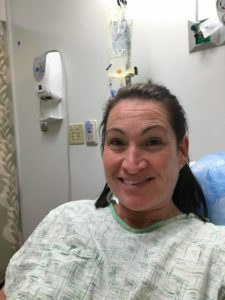 The Embarrassing Why
What I haven't talked about yet, is why all of this has happened.  It's simple and extremely embarrassing.  79 million Americans have been diagnosed and I am one who has been diagnosed with HPV . Even crazier, I was diagnosed when I was probably 21 years old, and have had 19 years of normal paps since then; so the virus has been dormant with absolutely no symptoms for 19 years.  When I got the call in October with the news of why I had the abnormal pap, I was in disbelief, because the truth was, I believed, even though it is humanly impossible, God had mercy on me and had healed me by his grace of that was my past, due to some really bad decisions, I had to no longer worry about such a thing in my body.  Truth, God doesn't love me any less, but it must have been time for me to fight a battle.  I stood up today in church and our Pastor had the women of the church pray for my surgery to remove the cells. Actually before going to the front of the church, I was not wanting to go up because I already believe this will be taken care of; but God spoke to me, "do you want to keep this?" So, I went to the front to receive prayer out of obedience. While I was standing up there this morning, He also said, "now, tell your story."  That is why this blog is being typed right now, to tell my story; even if the cause is incredibly embarrassing.
HPV can come out of dormancy caused by changes in your immune system, childbirth, and is also sometimes triggered by stress.  Basically my immune system was not able to fight off this virus from rearing it's ugly head again.
Know Your Worth
So maybe you will think less of me or look at me differently after reading this blog.  What I know is this, and it's no excuse, but I know and watch young girls struggle with their appearance, their looks, whether they feel beautiful or not.  I fought those same battles, especially being born with a cleft palate with some obvious facial scaring and disfiguration, fighting my weight my entire life, and being a nearly six foot tall female. I had horribly strayed with my morals starting around college and have definitely fallen short of making good decisions all too many times since then.  Why?  I wanted someone to justify my worth, tell me I'm an amazing person, tell me I'm beautiful, so I made terrible decisions trying feel wanted.  It's a sad, but true story.  I know my worth now; but too many times in my past, I didn't know or understand my worth.  By the statistics of 79,000 HPV infected people out there, the odds are not in anyone's favor.
What I also know, unless there is real research proving the HPV vaccine is harmful, my kids will have the vaccine as soon as they can.  It's not an excuse to not be careful or make good decisions, but it's a buffer, because it would only take one bad decision to change their lives forever like it has mine.  We don't come with a warning label.  If someone has the flu, sometimes they don't even know it and spread it. It is even more dangerous with a silent, hidden symptom, and in my case as with many others predominantly dormant viruses such as HPV.
My Purpose in this Struggle
There are worse things, and bigger battles other people are facing out there.  But this is my battle right now, and if I can share and help one young girl, or make one other person who has quietly fought this same battle in their past, or currently fighting this battle not feel they are alone, then my purpose upon this Earth is one step closer to being worth the breath God has allowed me to enjoy one more day.
So, as I go through the cone biopsy, I pray this is the end of my story and one of victory over my past, and victory over the bad decisions. I also pray I get to enjoy the amazing blessing of the family God has entrusted me with for a very long time without fear.
"For God has not given us a spirit of fear, but of power and of love and of a sound mind." 2 Timothy 1:7
"There is no fear in love. But perfect love drives out fear, because fear has to do with punishment. The one who fears is not made perfect in love." 1 John 4:18