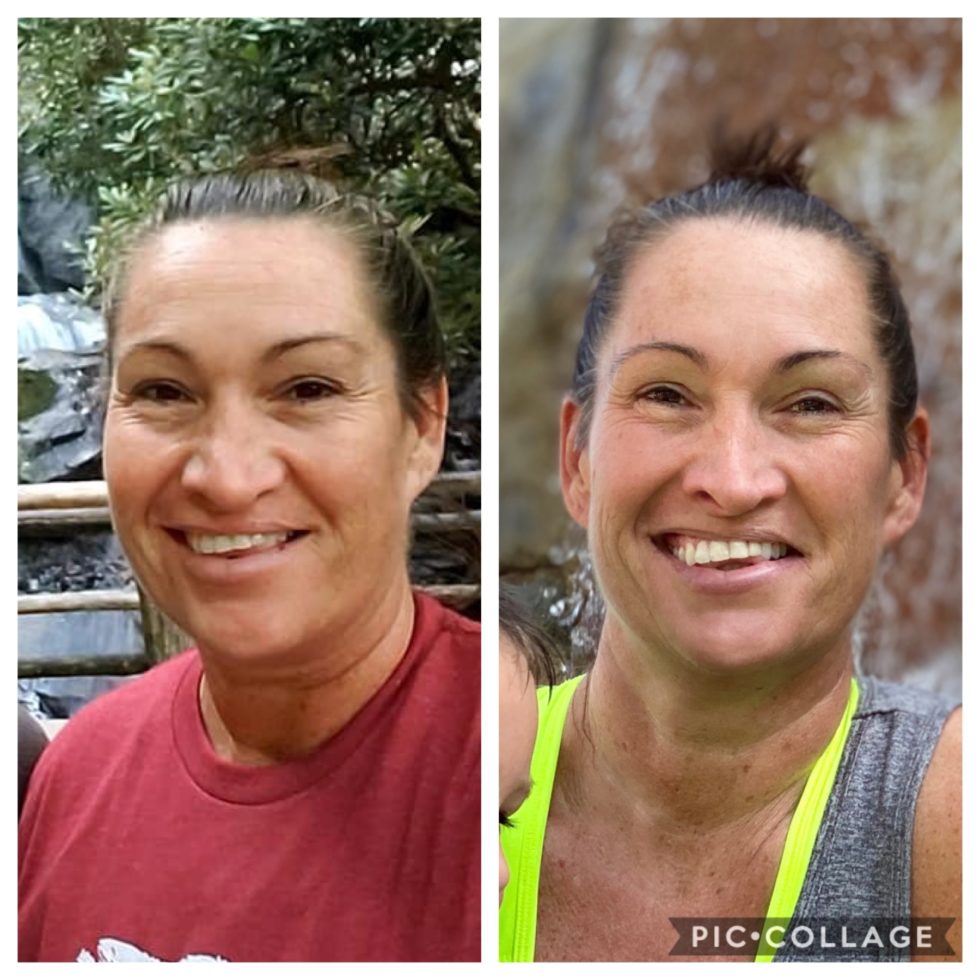 How I Lost 25 pounds in 60 days!
After having two children and being over 40 years old, weight loss has seemed impossible for the last couple of years. Since last March, my weight had steadily climbed up slowly up to over 200 pounds. Worse than the weight gain, anxiety, and feeling horrible; my mood and energy were as bad as they've ever been. Even attempting to eat at Chick-Fil-A gave me near anxiety attacks with the amount of people and commotion.
Upon having a conversation with a friend of mine about a program his wife had learned about from a nursing co-worker; I scheduled my initial consult for the next week.
The program is called VitaLife, the office I used was called Vitality Weight Loss, located in New Albany, IN. The initial consult was free. We talked about my goals, how I felt, a quick overview of the program, and cost of the program. The program guaranteed you would lose 20 pounds in 40 days or your money back. 40 days is just over a month, it sounded too good to be true, but I was willing to do anything and honestly, pay anything to commit to something that would work.
To get started, here is the summary: You first do an intensive Zyto scan that you lay your hand on the Zyto machine for 15 minutes solid while you watch a video explaining the program in more detail. The scan give a lot of detailed information, it gives them a list of vitamins and minerals that you are deficient in, so they can give you the supplements you need. It also produces a list of foods that your body needs in order that are approved on your list that you can eat.
My supplements that were recommended to me based off my scan were XenoStat (a thyroid and hormone supplement – once a day), HepatoVen (a liver detox supplement – 3x a day), and D3 drops (once a day). The supplement company they use for these supplements is Premier Research Labs. I also took a VitaLife formula drops – .5 ML, 3X a day, no eating or drinking 15 minutes before or after taking. Mineralife drops – these were 19 drops added to 16-24 oz of water daily by sipping and finishing by 4pm. This supplement helped with PH balance of the water, and helped my hydration really improve. Lastly, I took a fizzy tablet that I dropped in water, it takes about 10 minutes to dissolved, then you sip on that for 3-4 hours. The fizzy tablet I believe is a Hydrogen tablet that is to help with energy.
The hardest part, going oil free with my diet and my skin and body. That was so difficult! I could hardly eat out at all. You have NO idea how anything is cooked when you eat out. I would ask for no oils or butter, but more often than not, it would come out dripping or coated in something. I only ate out three times in my first 40 days. It was so hard because our entire social life revolves around eating out. I would take a lunch bag with me or literally order a plate of lettuce and tomato and carry my dressing that was approved with me.
I had to switch out deodorant (Speed Stick; so gross!), shampoo and conditioner (Matrix Volume Bloom), lotion (Aveeno Baby), body wash (Ivory Clear), toothpaste (Tom's), hand soap (Dial Gold), and makeup (I kept using my Tarte BB cream, and bought some Neutrogena Oil-free powder). For sunscreen even, I used Neutrogena sparingly. Here is a list of oil free products that Chicago site provides. Vitality in New Albany gave me a list of approved products to use as well.
Why no oils? Your body holds on to oils and will use oils before it burns fat. You want to be in fat burning mode as much and as long as possible. Any oil would kick me out of fat burning mode. I literally got stuck later in the program because I was using the school bathroom hand soap we figured out. So, along with my salad dressing I needed for flavor (made of apple cider vinegar and some spices), I also carried a little bottle of my Dial Gold to wash my hands with away from home.
Day 1 – You do a load up day. You can eat whatever you want, but make sure you eat 2 or 3 healthy fats like coconut oil or guacomole. I ended my day with a Dairy Queen run and got a hot fudge, brownie cup perfection as my last meal/treat. I basically craved ice cream and brownies since then I believe!
Days 2 – 40 – BAM! Ok, no oils and here we go! You eat 2x a day, only lunch and dinner. You need to eat within an 8 hour window, aka intermittent fasting. You eat chicken, beef, turkey (no more than 3-4 oz), or fish, tuna, shrimp (no more than 5-6 oz) twice a day; making sure you don't repeat the same protein on the same day or 2 days in a row. You eat two fruits on the approved fruit list with the approved serving size. This is your sugar allowed and your saving grace to actually feel like you ate a meal. You can eat as many vegetables as you want on the approved list. There was no limit, as long as they were in the 8 hour window. You also were given their pink salt, and were to use 1/4 to 1/2 a teaspoon a day. You also needed to increase your water intake. They kept me at around 60 to 70 oz, so that wasn't bad at all. With the hydrogen tablet and the MineralLife drops, I hardly needed much more water than that, just one more 20 oz bottle usually. They do allow stevia, they sold these Sweet Leaf flavored Stevia drops I loved to put in my fizzy water each afternoon. It was a rare treat I look forward to each day.
The first week was HARD. Yes, I felt like I was hungry, and cranky, and blah. That week is when you are detoxing out sugar and other harmful things your body has been running on. I promise, it got easier. I honestly thought and even said when I left the office to start the program, there is NO way I can do this! It became easier (the 3X a day drops must help with hunger by the way), and the weight came off quick!
If you got stuck for more than 2 days with no weight loss, you do a plateau breaker: Steak Day – eat nothing all day, but that evening you can eat a 5 oz. steak and a tomato or apple. This is the first one they recommend. Apple Day – you eat nothing but apples all day. You can start them whenever you like, you don't have to wait until lunch. Raw veggie day – Eat as many raw vegetables all day as you like. These really worked. Usually the next day I would lose about 2 more pounds and be off and running again back into fat loss.
Warning – I could not really workout. If I did I felt lightheaded. Yes, I know, some people will say this is a starvation diet. It actually kicks you into fat loss, and your body is consuming the body fat you have stored as a calorie source as well. The most I ran during the 60 days was a mile and a half. I did a 5K around day 40, but cheated and had a banana and peanut butter that day before I ran. I played basketball a couple of times, but would get fatigued very quickly.
What did I eat?
Protein: Grilled chicken, turkey slices (no nitrate, butterball), eggs, tilapia, ground beef, ground turkey, shrimp, salmon, tuna packed in water, turkey burger (Red Robin is awesome by the way, they never messed up my order!)
Veggies: The frozen bags of vegetables are my life line. I usually eat a whole bag at a time. 4:30 to 5 minutes in the microwave: Broccoli, brussel sprouts, carrots, cauliflower, zucchini, romaine lettuce, kale (from the air fryer), asparagus, green beans, spinach.
Fruits: strawberries, rasberries, pears, apples, grapes, blueberries. White or Red wine is also allowed. 1 glass only.
Dressings: Simple Girl Honey Mustard, Simple Girl BBQ Sauce
Coconut Oil: Every now and then if I was stuck, the office would suggest I did 1 teaspoon of coconut oil at each day. The coconut oil would kick you out of fat loss, but kick you back in to a deeper level of fat loss in a day or so. It was really interesting to see. I would usually try coconut oil first, then if still stuck, do a reset day. I only had to do a couple reset days.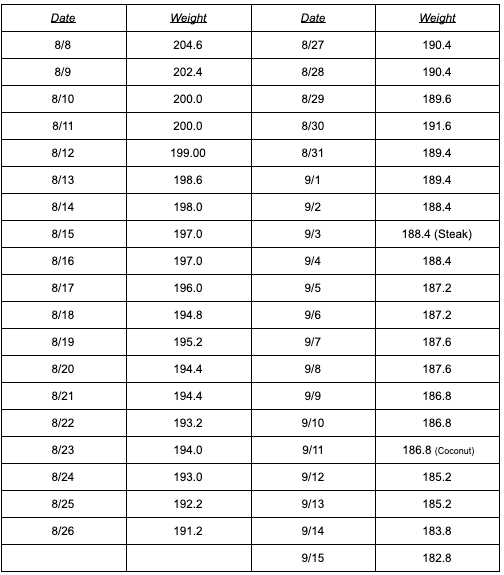 Each week, I had to go to the New Albany office for a body scan. It gave out a lot of really great information. My weight is different because I would weigh about 4-5pm those days and dressed. It's really awesome to see how my body fat went down dramatically, hydrations went up, and my metabolic age went down as well.
Other accountability actions: each day I text my weight to an automated system for Vitality. It really keeps me honest about where I actually am, instead of letting weight creep back on, and gives me instant feedback on what I ate each day and my activity level.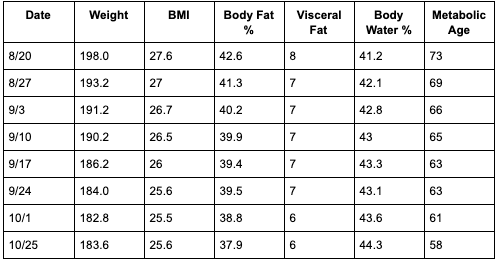 At my office scan, I was only down 18 pounds according to their calculations. I am missing info from my starting scan. I believe according to their scale, I started at 206.8. Anyway, true to their word, they gave me a 20 day extension to get to my goal weight free of charge. The last 20 days were actually hard. I was ready to be done, and weight was coming off so much slower because I was getting closer and closer to my ideal weight. Seeing rapid weight loss like I did the 1st 2 weeks of the program was so satisfying and motivating.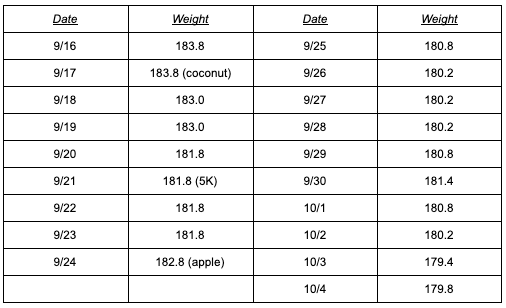 The Lock In phase – ok, so now that I got as low as I could go, it was time for lock in phase for 21 days. Basically, I can add back in oils, add back healthy fats, and even eat 3x a day, but for the most part, still need to stick with protein, fruits, and vegetables. They had me bump my calories up to 1800. That was crazy for me to wrap my head around how I wouldn't gain weight, but you need to ramp up your calories to establish that set point for your metabolism.
I am now in the Maintain phase, and I have maintained! Today, as I write this, it is November 14th, and this morning I weighed 179.4. We also traveled on fall break and I didn't gain. I eat out now, but still try to keep it pretty healthy. I just have to be careful with carbs and non program foods. If I gain more than 2.1 pounds I need to do either the steak, apple, or raw veggie day to reset.
The big thing that I've learned is that it took a complete, committed detox of my old ways of eating and starting a new lifestyle. The lock in phase is no joke, your body fights to keep you at that locked in weight.
I'd like to get to 170 eventually. But, for now, I'm going to continue to maintain, try not to stress about gaining, and stay within that 2.1 pounds of my set weight. Maybe at the new year, I can try another round and get these last 10 pounds off. But, I am happy and proud of what I accomplished.
One last thing, I was able to get my weight loss program approved to be reimbursed for my HSA account; so that was an added bonus. I had money sitting in an HSA I hadn't used, so it was awesome to be able to use that. I had to get a very detailed letter written from Vitality to send to my HSA company. It was denied the first time because they wanted more details about the supplements and they misunderstood that I was buying food from vitality.