Weightless Float Center and Infrared Sauna Experience
I've been experiencing some pain in the my hip since the half marathon I ran at the end of April.  This happened the last time I ran a half too, so me and Dr. Google have diagnosed it as piriformis syndrome, and  it seems to be irritating my sciatic nerve down the middle of my hamstring area…ugh, basically, it hurts when I'm not moving or have it in motion after I'm well warmed up.
I love my podcasts on my drives, so Model Health Show is my favorite by Shawn Stevenson, and he recently had on Chalene Johnson (best known from Beachbody workouts, and now her 131 method).  Anyway, she was on talking about decluttering about the time I needed to have a yard sale, and I realized I love her podcasts too!  One of her most recent podcasts talked about how she has a major hamstring injury, she tore if from the bone type of major, and she goes through what all she is doing and has successfully avoided surgery with some natural healing type of treatments. I'm all for that! I hate going to Doctors and spending money, so I guess I might as well spend money in other ways.  I had never heard of almost all of the things that she is doing; and a couple that really intrigued me was a float tank, and infrared sauna sessions.  The podcast was titled Healing Naturally.
I put google to work again, and I found that there were two places in Louisville that do these services, and I was able to schedule online (didn't even have to speak to a person… bonus!) for Saturday, which was only a day out from when I was looking this up. Even better, I had a 10K I was running Saturday morning, so I figured I would definitely need some feel good therapy of some sort to recover from the 10K. All of that, and a free afternoon, made for a great adventure!
Weightless Float Center is the one I chose, and I loved the atmosphere at this cute little business.  It also was an easy drive, just off Story Ave off I-64, so from Salem, that's as good as it gets when you have to cross the bridge!  I booked my float at 11am, and my sauna session at 12:30.  The float is an hour and 30 minutes, and the sauna session was 40 minutes, but I didn't make it that long!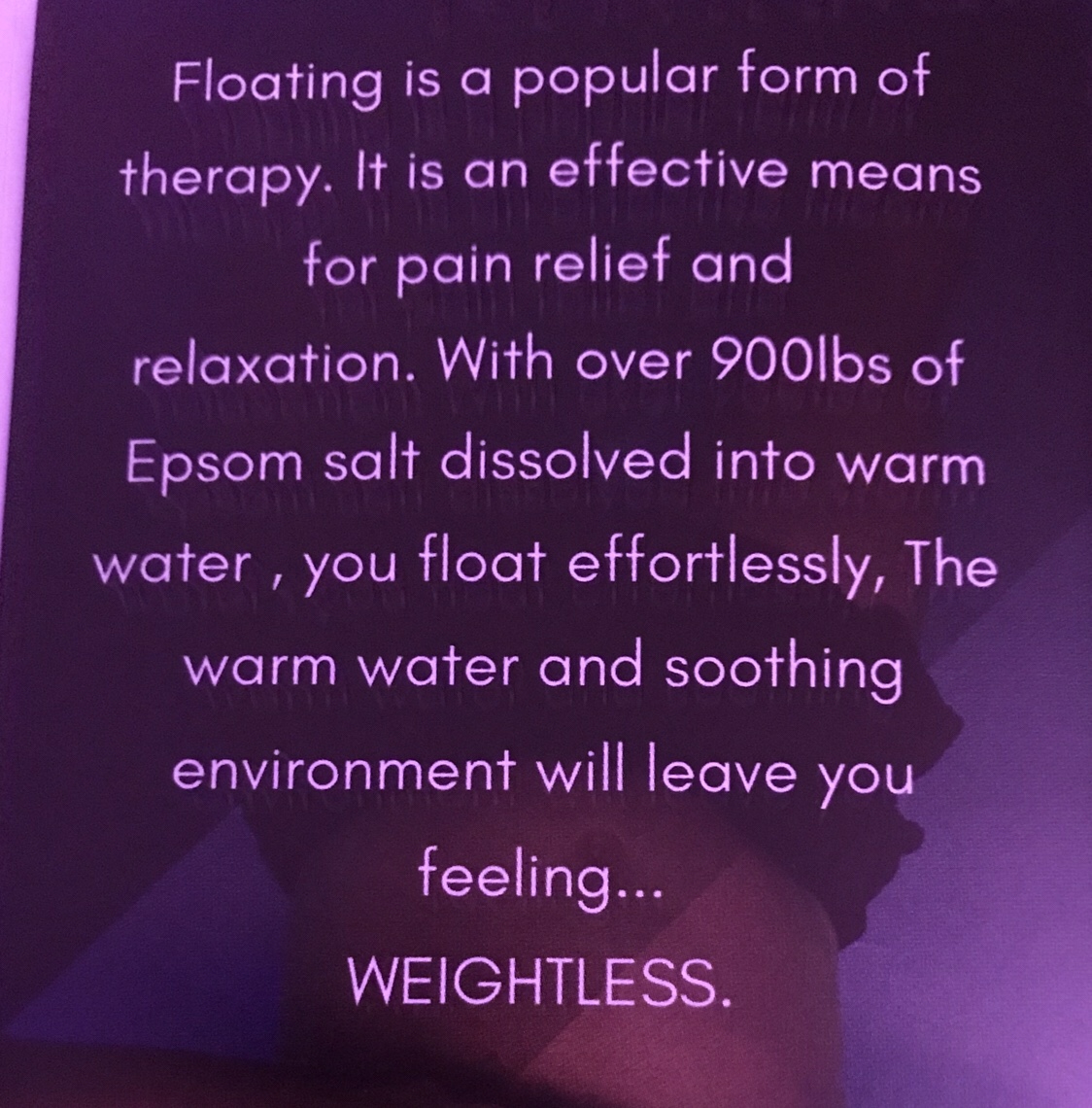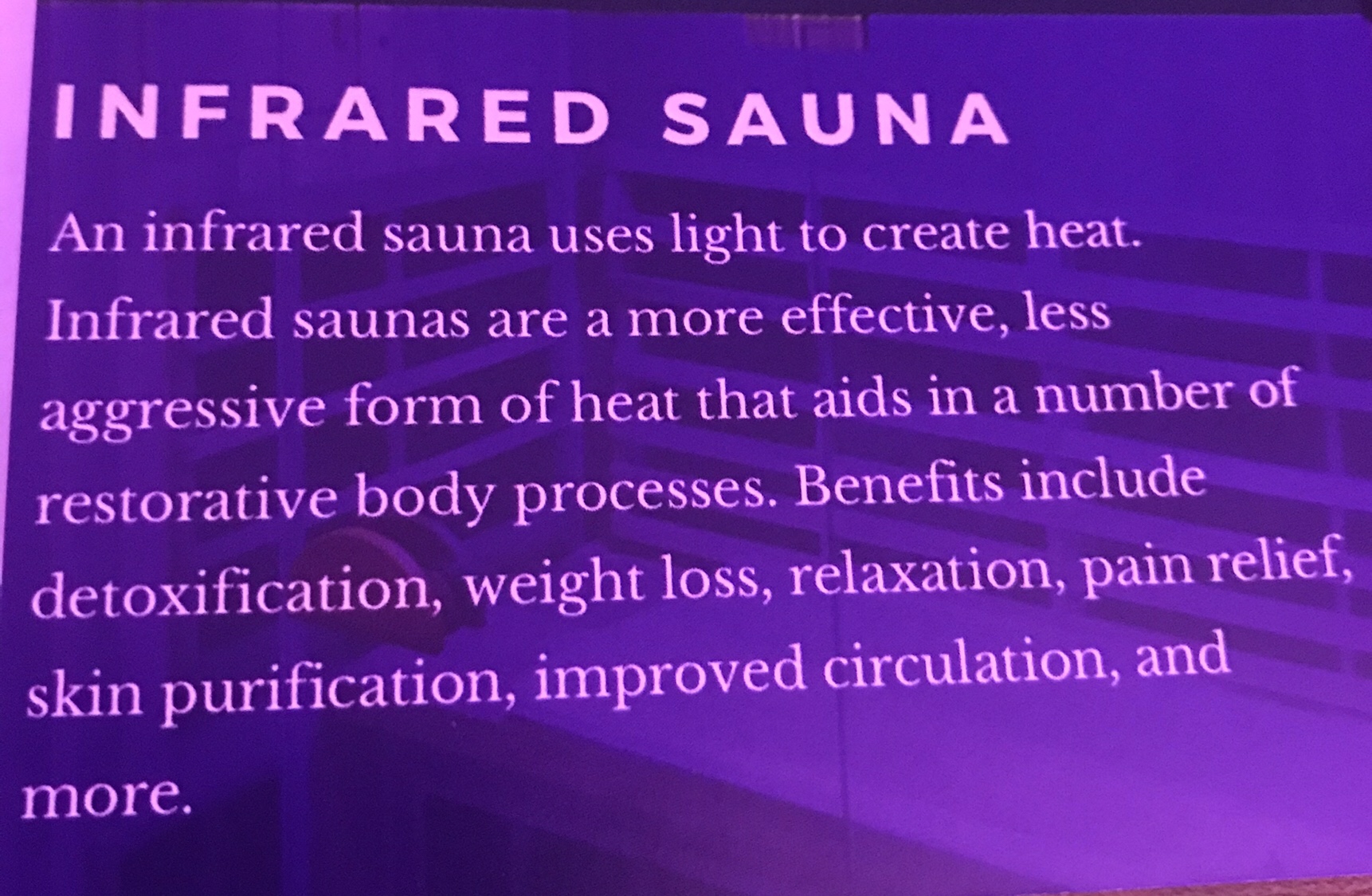 I was able to do my waiver online as well, so I walked in, was greeted by name, and the nice young lady led me back to the float area, after I picked out some sandals that she said I would need for the shower.  I had on sandals and was a bit hesitant to use public sandals but I obliged after looking around and realizing how clean everything was in there.  So, I'm guessing and hoping they were deeply sanitized after each use.  She lead me back to the float room, and gave me a lot of instructions to do and regarding the float experience.  First, I visited the restroom, then came back to the room, and got undressed in the private room.  They give you two different choices of ear plugs, so I chose some foam ones; she said to put those in even before showering so they didn't come out.  Next, I used the shower right next to the tank, I had just done a 10K, so this was a very welcome shower!  She had told me to take a room temperature shower so my body temperature wouldn't rise, as the tank was room temperature water. There was a pump station set up on the wall with shampoo, conditioner, and body wash.  Conditioner is for after the float.  I took a quick shower, then was ready to get in the float.  I had never thought of this, but they give you a small packet of petroleum jelly to put on any cuts, scrapes or raw areas you may have. I must have grabbed my razor last night, because I have one of those super annoying cuts on my left index finger.  I put plenty of jelly on that cut, and thought I was good to go. There is also a clean hand towel, and a spray bottle of water hanging just outside the door of the tank.  That is there just in case you get salt in your eyes, you can use the towel or flush out your eyes.  Luckily I only had to use that once, as I tried to be very careful to keep salt out of my eyes!  It was a random drip from the top of the tank that got me.  There is 900 pounds of Epsom salt in the tank, so it's slippery, and you float immediately, it's honestly a really odd feeling!  You are also given a thin looking donut shaped pillow that floats that you put your head in as a head rest.  Ok, so I'm in, and I'm floating, and I look up, and I've left the light on in the room.  Inside, you have a little floating blue light you can use or not use.  I left it on at first, tried to relax, but the outside light was really distracting me.  So, I slid out of the tank, and turned off the room light, and slid back in after also finding some unknown raw places on my body and applying more petroleum jelly.  It stings like crazy if you don't have something on any type of raw area.  I'm back in, and trying to get comfortable.  I turned the blue light out, and practiced some deep breathing, tried some counting, tried some super quiet mantra sounds I'd learned from an audio book I'd listened to about to try to relax.  I was in and out of a deep relaxed state for the most part.  I also was playing with how I wanted to lay in the tank.  I laid mostly on my back, with my arms to my sides.  I'm nearly 6 foot tall, so if I moved too much I would hit the top of the bottom of the tank and I found that super annoying and taking me out of the deep relaxed state I wanted to be in. An hour and a half is a long time when you are playing with lights, positions, and just all in all finding your best relaxed state.  My knees ache from time to time, so I wanted to make sure I got them submerged as well, so I also played with floating on my stomach.  The girl who helped me get set up in the tank was about as tall as me and said her favorite position was her hands above her head.  I'm not sure how she fits like that, or I must have longer arms and legs than she does. Anyway, it was relaxing.  The salt was crazy thick.  My skin feels super soft.  I feel pretty good after a 10K race ran this morning.  The consensus, I want to try it again!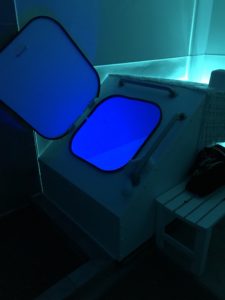 When your session is over, they pump some music in your room (the room is silent when you are floating), and kick on a motion sensor light somehow; and you know it's time to get out.  I showered again, used the nice bath towel and robe they provided, then headed down the hall to the sauna.  The sauna was set at 118 degrees (I turned it down as it goes up to 140 degrees) and I had the room to myself, so I just used the towels and set them up that I could lay down across the bench seating in the sauna.  I'm not a big sauna person, and I had sweated a LOT from the 10K that morning.  I am quite a sweater as well, so I was dripping with sweat quickly!  About 15 minutes in, I started working on some stretching movements for my legs. They have a car radio installed in the sauna; it looked like it had an aux jack you could have plugged in a phone, but I turned it off and just kept enjoying the silence. I stayed in 35 minutes, then used the towels to dry off as well as I could, reapplied some deodorant, and got dressed.  I enjoyed some amazing ice water they provided and set in the lobby to make sure I drank at least two glasses before heading home.
If you want to go try to float, if you put in my name "jennifermorris" in the discount code, you will get $10 your 90 min float session.  To give full disclosure, for every three people who sign up with that code, I get a FREE float!  They will do this for anyone, so how cool, you recommend it, your friends get a discount, and you might get free floats in the future!  I got a membership, so I can't wait until next month to go do the float again.  I probably won't do the sauna on my next visit.  It has great benefits, but I'm kinda cheap, and the float was great, so I will focus on that, and I'd love to try some other things that Chalene suggested!