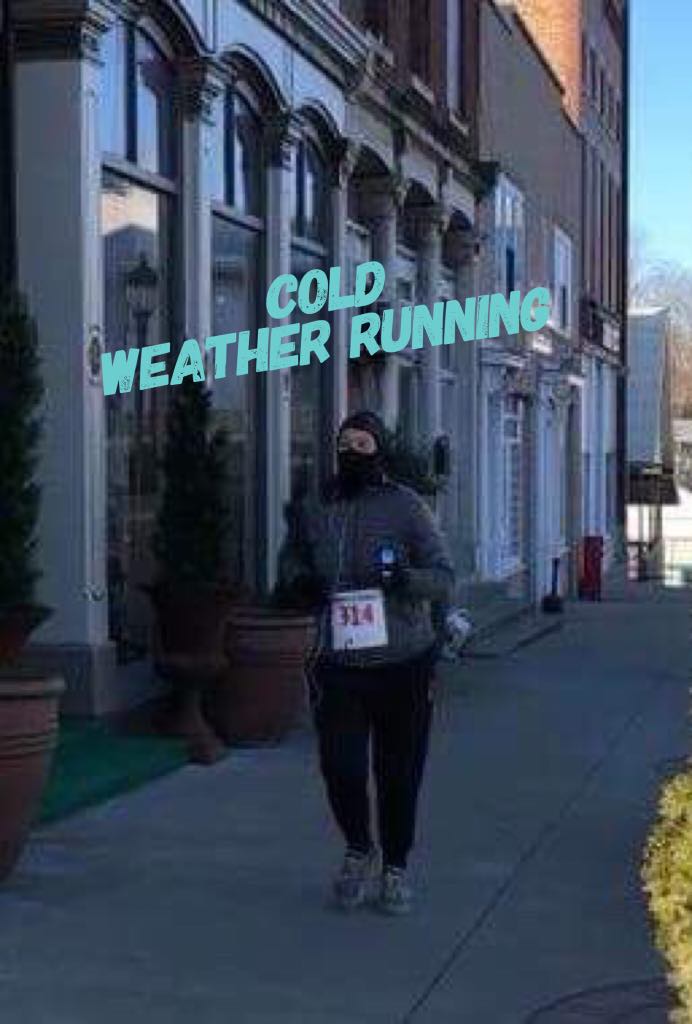 Cold Weather Running
The Frostbite 5K was held this past weekend, we've had quite a cold stint in Indiana for the past couple of weeks.  I signed up for the race knowing that if I signed up, then I would be more likely to make sure that I was faithful in training for it.  I have to have something in front of me scheduled usually to hold me accountable.  It worked, because even this past week, I knew I had to get a run in at least by Wednesday or Thursday so I could justify in my mind I was running a race on Saturday.
The Forecast 
The forecast the night before was calling for 5 degrees, and I kept thinking, so way can I run in 5 degrees.  My runs the past couple of weeks, I've gotten out in teens and 20 degree weather, but not single digits.  I kept checking the site the morning of hoping they would push it back or another time; no such luck when it comes to running races, unless there is a state of emergency, that race is probably happening just as scheduled. I had paid already, I'm pretty cheap, and I knew I had based my training, even justifying doing yoga Friday rather than go play basketball like I usually do.
My Sob Story
I also posted my sob story post on facebook about the cold temperatures, and "why oh why did I sign up for a 5K this morning." Luckily for me, my old trainer from my favorite garage gym, Tara, replied, "Woooo, do work!" That was the kick in the pants I needed to suck it up, so I started googling trying to find tips for cold weather running.  Secretly too, I was trying to find an article that told me this was a bad idea for my health.  No luck! I quickly was reminded of people who don't live in Southern Indiana, and single and negative digit temperatures are their reality many months of the year.  I was quickly reminded that when dressing to run outside, you need to dress for 10-20 degrees warmer than it actually is.  I also quickly reminded myself, some people would be walking, some volunteers for the race would be standing still, and I would be moving!
What to Wear
I knew I had plenty of winter gear that this race was not a big deal; so here's what I wore:
Socks – I have some super thick knee high Columbia ski socks, even with my vented New Balance, my feet were warm enough; if I had lesser socks I would have worn two pair probably
Pants – I have some asics running pants that are not exactly thick, but not paper thin either. I put on sweats over these. My legs don't usually get hot, and the sweats limited my range of motion, if I was running faster, or was more competitive, I may have just tried to run with the Asics running pants.
Top(s) – I had a nike base layer on the bottom – some call them "Under Armour," which makes me laugh because mine is actually nike, but they mean a base layer that is performance material.  It's like calling a tissue a Kleenex.  Kudos to Under Armour for being a game changer in base performance layers. Next layer was a nike, think fleece top.  I got this as a gift when I coached softball from our Nike rep.  It's thin, not thick, but super warm and my perfect middle or top layer when it's cold.  My top layer is a workout/running jacket I got from kohls.  It's thick enough to block wind, but not too heavy, and I can move in it for the most part.
Gloves – If I had a mulligan for this, I would have done it differently.  I wore some gloves that I usually wear running that have been perfectly fine.  I had no idea there were such things as glove liners or I may invest in those; and/or I should have worn my ski gloves.  Typically, my hands are the first thing that sweat profusely; but for this race, I swore I was getting frostbite about a mile in and had to clutch my fingers and tuck them in my jacket from time to time until I was getting some feeling back again.
Hat – Normally, a toboggan is sufficient.  These under 20 degree temperatures I've been pulling out my full headed ski mask.  The biggest benefit and necessary item is the covering over my mouth that I can get plenty of air in and out of but it warms the air before it comes in my lungs.  I've ran cold races before without these and my lungs hurt pretty bad the rest of the day from taking in the cold air.  I also have a gaiter that face only, but I knew for 5 degrees I wanted to hold in as much heat as possible and keep out and cover as much exposed skin as possible. The downside of this is that I'm drenched when I'm done with sweat.  But, I'm okay with that, rather than feeling like I'm cold any day!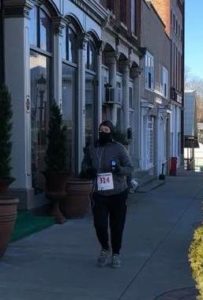 Guess What? I Didn't Die!
This course had 2 brutal hills (Salem people: fairgrounds hill and the hill to get back to the square from the fairgrounds, sigh) in it I had to walk some of it because I realized I was shuffling my feet as fast as I could walk, and I'm finding lately I might as well, regroup, and then go again when my breath is back under control.  I used to never be able to stop, if I stopped it was over; but lately if I'm moving that slow, I walk for just a bit.  I definitely need to add hill sprints to my training.  If I encounter a big hill during a run; I have a horrible time conquering the hill and regaining the stride and pace I want to be at.
My first mile was at 8:55, the second mile was where the fairgrounds hill hit, and I never recovered the pace I wanted to have; I finished with a time of 30:45 or something around that time. I did win my 30-39 age group, but as you can imagine there weren't a lot of participants for this race this weekend. I always go out hard….if I don't, I'll never speed up; nor have I ever been very good at running a consistent pace for the duration of whatever event I do.  My personal record on a 5K course was just under 25  minutes about 4 years ago when I was CrossFit training about 4 days a week, and running once a week. My goal right now is to get back to consistent 9 minute miles.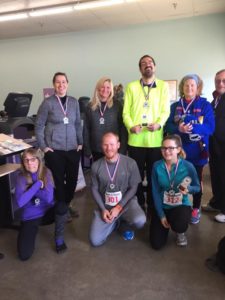 Photo Credit: Kim Beard

No More Excuses for Me!
When I can, I'm going to run outside, and I hate treadmill running especially; and after running in 5 degree weather, I now have no excuse not to get outside for my training runs.  It rarely gets this cold, and will be over before we know it!  Want to add running to your activities? My best advice is the Couch to 5K app; it is a great app and plan at giving you a very progressive plan and doing a lot of walking and progressing you very slowly into running.